Fine lines & Wrinkles Treatment
As we age, there is decrease in collagen and elastin production in the skin which can be due to natural aging process and prolonged sun exposure. This leads to formation of fine lines and wrinkles. Our customized approach using advanced treatments and techniques effectively diminishes fine lines and wrinkles, leaving your skin smoother, firmer and more youthful!
Smooths out fine lines and wrinkles

Promotes a more youthful look

Promotes firmness and elasticity in the skin

Enhances self-confidence 

Prevents future wrinkles & lines
How does Fine lines & Wrinkles Treatment work?
At GEM Clinic, our experienced doctors will carefully assess your skin's needs and create a personalized treatment plan by using the latest technology and techniques. Treatments may be combined to achieve optimal results. 
AestheFill is an emerging trend of injectable filler where its main component is PDLLA (Poly-D-L-lactic Acid). By injecting AestheFill into targeted areas such as the nasolabial folds and marionette lines, it can effectively plump up the skin and smoothen out fine lines and wrinkles. In addition to adding volume, AestheFill also stimulates collagen production which slows down skin's aging and further improves skin texture and overall youthfulness for up to 2 years!
Dermal fillers are primarily used to address static wrinkles which are visible even when the face is at rest. These wrinkles often occur due to age-related volume loss and reduced collagen production. Dermal filler's main ingredient is hyaluronic acid(HA) which is a naturally occurring substance in the body. When injected into the targeted areas, it adds volume, plump up the skin, and smooth out static wrinkles instantly. 
GEM No-Fake Botox is particularly effective in treating dynamic wrinkles which are caused by repetitive facial muscle movements. It works by temporarily relaxing the muscles responsible for causing wrinkles. This relaxation of the muscles helps to smooth out existing fine lines and prevent the formation of new ones, resulting in a more relaxed and refreshed appearance.
HIFU (High Intensity Focused Ultrasound)
HIFU is a non-invasive treatment for fine lines and wrinkles. It utilizes focused ultrasound energy to heat deep layers of the skin, specifically targeting areas affected by aging. HIFU stimulates collagen production in the skin leading to skin tightening and lifting effects. As collagen levels increase, the skin becomes smoother and reduces the appearance of fine lines and wrinkles. 
Thread lift is a minimally invasive procedure that provides lifting and tightening effects for sagging skin, including fine lines and wrinkles. During thread lift, dissolvable threads made of polydioxanone (PDO) are inserted into the skin. These threads act as a scaffold, lifting the skin and promoting collagen production. The collagen stimulation helps to reduce the appearance of fine lines and wrinkles as well as improve skin texture and elasticity. Over time, the threads dissolve naturally, leaving behind a more youthful look.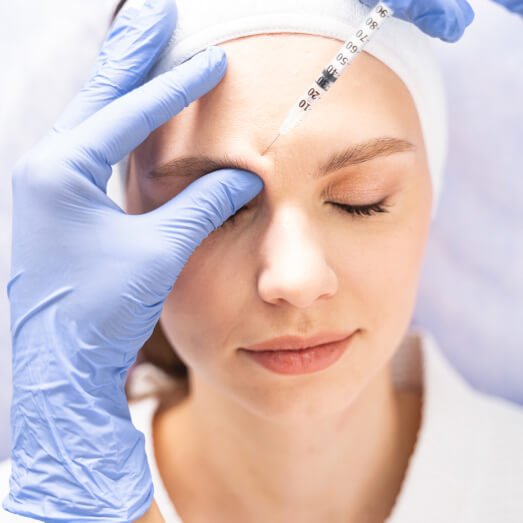 About Fine lines & Wrinkles Treatment
Fine lines & wrinkles are often one of the very first signs of aging. Our fine lines & wrinkles treatments aim to reduce the appearance of fine lines & wrinkles on the skin by targeting the underlying causes such as muscle contraction, volume loss and collagen depletion. The treatments typically involve AestheFill, dermal fillers, Botox, thread lift, or HIFU which are the ultimate solution to rejuvenate your skin and bring back its youthful glow.
Frequently Asked Questions
Being results driven, GEM Clinic provides FREE consultation personally by our doctors to assess client's concerns. Our doctors will determine the best suited treatment to deliver a liberating experience with visible results that is wallet-friendly!