Breast augmentation or breast enlargement surgery involves using breast implants or fat grafting to increase the size of the breasts.GEM Clinic is an established and highly sought-after aesthetic specialist that provide the finest breast augmentation treatment in Kuala Lumpur
Increase size & projection of breasts

Achieve fuller cleavage 

Correct uneven breasts

Enhance self-image & self-confidence
How does Breast Augmentation work?
There are 2 types of breast augmentation surgery which are breast implant and fat grafting. Both are highly technical procedures and its important to have it done by an experienced aesthetic surgeon.
Breast implant is a medical prosthesis that is placed inside the breast to give the breast a bigger fuller appearance. Prior to the surgery, the surgeon will assess the type and size of breast implant that is best suited for the patient. All our breast implants are of the strictest international quality standards.
There are two methods of inserting the breast implant which are Traditional method and Dual-Plane method. At GEM Clinic, our surgeon uses the Dual-Plane method which has been effectively proven to reduce risk of capsular contracture and provide a natural look to the breast. 
Fat grafting involves taking fat from other parts of the body and injecting them into the breast. The surgeon will take the fats that are in excess from areas such as the tummy, thighs or flanks. Ultimately, the fat gives rise to more breast fat and increases the breast size.
This procedure is like hitting two birds with one stone as the patient can get a fuller looking breasts and a slimmer figure. Depending on the patient's breast size, our surgeon will often combine fat grafting and breast implant to give a more natural result and significant increase in breast size.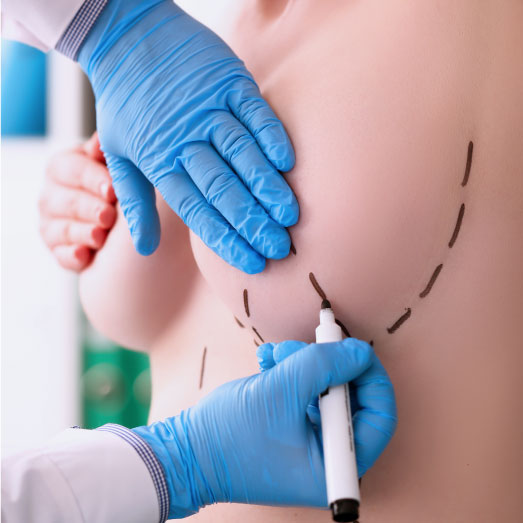 About breast augmentation
Saggy breast is the result of loss in breast elasticity and firmness which can be due to pregnancy and aging. In cases of mild sagging, breast implants may help to fill loose breast skin and create a more lifted appearance.
Breast asymmetry occurs when one breast has a different size, volume or position from the other. Breast augmentation is one of the best ways to correct uneven breasts to create a more balanced appearance.
Frequently Asked Questions
Being results driven, GEM Clinic provides FREE consultation personally by our doctors to assess client's concerns. Our doctors will determine the best suited treatment to deliver a liberating experience with visible results that is wallet-friendly!